Hiking in the Dolomites - a bonding experience!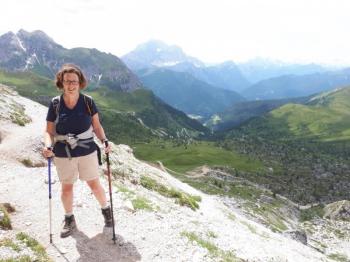 As I stood at the top of a peak with other like minded hikers, looking over the most glorious Dolomite mountains,  I could honestly say that I was in heaven.  Of course, I had slogged up a mountain to get there, which for me was quite an achievement these days, but, even if at rather a slow pace, I had made it, and could now enjoy the wonderful benefits of such exertion. 
I have always loved hiking but its been a very long time since I have been on a group hiking holiday.  So it was with some trepidation that I set off on a walking trip to the Italian Dolomites, organized by Collett's Mountain Holidays, a company who specialise in outdoor trips.
I heard about Collett's via my niece, who had worked as a walks host for the company in the Pyrenees the previous summer.  I read the brochure and was impressed as they offered different types of accommodation and different levels of walk to suit everyone's needs.  Right from the start they offered a personal touch - the staff on the phone knew the trips well so could give excellent advice, a map arrived in the post to help us plan our trip and on arrival at our self catered apartment, we were met with a 'goody bag' of teabags, coffee, milk, beer...- just what you need after a long journey.  And the 'office hour' each evening was a godsend, where details of each walk on offer the next day were explained to us by the enthusiastic staff, ensuring we knew what we were letting ourselves in for before setting off on an expedition into the mountains.  Walks ranged from more leisurely valley walks to high mountain ridges. You could even go on your own ' self guided' walk, so could choose each day on how fit you were feeling.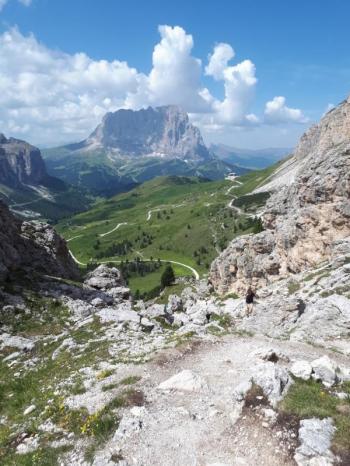 The accommodation was great too.  Our self catered apartment was excellent - comfortable, clean, near town with a lovely view over the surrounding hills.  We could have gone upmarket - to the 4* Panorama Hotel, with pool, sauna, ensuite rooms etc which all the guests raved about.  One hiker informed me that the 'gala dinner' was the best meal he had ever had!  And even as a 'self caterer' we could 'buy into' the evening meal with other the other chalet dwellers. £20 for a three course meal including wine, and great company was a pretty good deal!
I had never been to the Dolomites before and they were truly beautiful - we were surrounded by mountain ranges, alpine pastures with edelweiss and a huge range of meadow flowers, the tinkle of bells from the cattle grazing on the plateaus.   The area offers skiing as well as summer holidays so the hillsides were littered with cable cars, chairlifts and refugios where you could purchase the most delicious hot chocolate and apply strudel!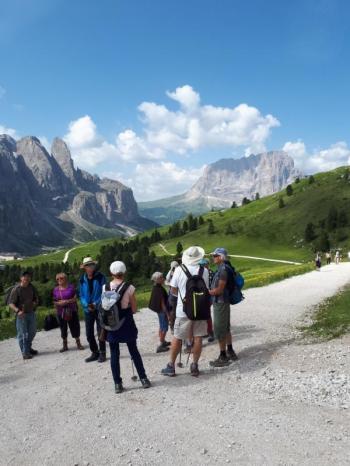 We met so many lovely people on the trip - many of whom we will not realistically see again, but with whom we developed a special bond for the time we were together.  The walk hosts were brilliant -  very friendly, knowledgeable and supportive when I was struggling up the steep slopes.
And we were lucky enough to make friends with another couple who literally live 5 miles away - after a couple for sessions cheering on England in the football we developed a special bond, which is due to continue over a curry on our return home.
With a group holiday, you never know where life will take you - who you will meet and what connections you will have with each other.   Even if you don't make a special friend, you will meet a real mix of people, many of whom you will really bond with on a trip of this kind. 
Whether on your own, or with a partner/ friend, I would recommend a group holiday.   The pressure of organising your days is taken away from you and you can just enjoy the wonderful scenery and companionship of others with similar interests to you.
And if you would like to go on a group holiday but would prefer to go with a companion, we might be able to help at togetherfriends.
If you are planning a trip to the Dolomites, take a look at this great informative blog by 10 Adventures!