Sing and hike your way around the Turkish coastline
I'm always on the lookout for interesting holidays.  Three of my favourite hobbies are singing, hiking and swimming so I was delighted to discover Meridian Travels, a holiday company that specialises in all these activities and lots more in an idyllic Turkish setting.  The holidays are based around life on a boat, an old fashioned gulet in fact, that gently sails from bay to bay while those on board relax together, singing, reading, eating fantastic authentic food and stopping off for daily hikes and cultural stops in the beautiful countryside.   There'll be the chance to swim and kayak, or if you simply want to relax then you can even cruise and have a massage on most days from the onboard female massage therapist.  And more than anything you get the chance to really get to know other like minded people who like the same things as you.   The sleeping arrangements don't sound fancy and you might have to share a room,  but all in all it sounds like a brill holiday - the perfect way to get away from it all in the sunshine.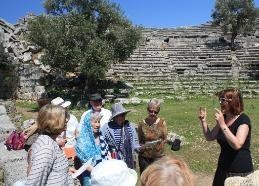 Meridian travel are offering an early bird price of  £650 at present and if you are a member of togetherfriends you can get an extra £50 off the cost.   Not a bad deal I think. 
 Whether you go with a friend or on your own, it sounds like a great trip.  And if you fancy the trip but don't want ot go on your own, why not make a shout out on our travel shout out page for a companion?