December - a month of treats!
I have always tried to live by own motto - Give yourself a treat a day!  Even when times are bad, it is good to give yourself something positive and a little bit of time to yourself.  And this Christmas we will really need our 'treat a day', as we will not be able to party and meet up with friends and family as we are used to, and I am sure you will all admit that this autumn has been rather a slog to get through.   So, if you are struggling with the thought of Christmas without your special people around you, why don't you give yourself a month of treats, one a day for the whole of December! Here are a few suggestions:   
1. Make your own Christmas cards 
2. Pop along to your local food market and treat yourself to some tasty goodies for lunch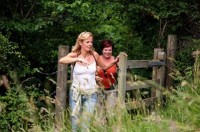 3. Watch your fave film
4. Go for a wild swim, making sure you keep safe (and warm!)
5. Snuggle down with a good book 
6. Sing, or play an instrument!
7. Look through old photos and share with friends
8. Give yourself a relaxing, luxurious bath with candles and lots of bubbles
9. Make a Christmas cake
10. Sign up to a magazine subscription, I use my Tesco Clubcard offers for this.  A real treat that lasts throughout the year
11. Buy yourself some gorgeous flowers
12. Make something - whether you knit, sew or crochet
13. Set up a film club with friends, watch the film separately then meet on Zoom to discuss and enjoy a glass of wine
14. Write a letter to an old friend who lives further away - you will enjoy receiving her reply
15. Learn something new - sign up to a new year class, whether its a language, instrument, or join a social club
16. Go for a run or do something energetic - you might not want to do it but you will feel better afterwards
17. Plan something special for 2021 - it will give you something to look forward to 
18. Make yourself some special Christmas foody treats
19. Go for a country walk and appreciate the countryside around you 
20. Enjoy a zoom drink with friends, whether its a glass of wine, or coffee and cake
21. Phone a friend who you aren't able to meet up with during lockdown and catch up on the news
22. Meet a friend for a takeaway coffee and sit in a scenic outdoor space
23. Join in an online carol service
24. Binge watch your favourite TV series
25.  This has to be an extra special day so lots of treats in store here, even if you are on your own.  Plan your day out beforehand - a special breakfast, a morning walk or wild swim, a zoom call to family and friends, a special TV programme. Whatever you do, make it special and treat yourself to a tasty Christmas meal, even if you are eating alone
26 A Boxing Day distanced walk with a friend
27.  A bit of a sales shop in your local stores
28. Write a January plan, whether it is to do more exercise, give yourself more 'me' time, or take up a new hobby.  Link it into keeping connected
29 Go out for a browse in your local town, buy a paper/coffee and people watch
30 Log onto togetherfriends and get messaging with your matches.   New Year, New Start!
31. Enjoy a zoom New Year party with friends, maybe with a theme!
These are my ideas, but I am sure you have plenty more?  What's your top treat to do this Christmas?  Why not share your list with a friend!