My Finnish cabin in the woods - a truly hygge experience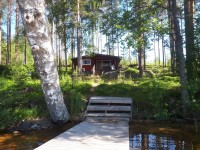 As we throw cold water over the scorching coals,  I am filled with joy that we have managed to light our very own sauna in the woods, with a lake thrown in to leap into afterwards. 
My husband and I have our very own Finnish cabin in the woods for a week of relaxation, mindfulness and total chilling.  And it really is just that - a cabin in the woods in the heart of Finland, surrounded by forest, water, sunsets, bbqs, boating, fishing and wild swimming.   And not forgetting the sauna - one of 2 million in Finland (and there are only 5 million people in the country!) 
Finland is pretty flat, with an awful lot of trees and water so on first impressions, it doesn't look that inspiring. But, like all nordic countries, it is an expert in the art of Hygge - getting back to nature, enjoying the simpler things in life and total relaxation for a little while.  And if you are able to relax into the new vibe of calmness and contemplation, then Finland can really get under your skin.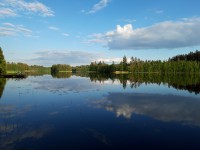 We were in our cabin during midsummer, and it truly is the time of the midnight sun. When I left the cabin at 3am to venture to our eco toilet, down the woody path, the sky was still alight.  Midsummer is a time when Finnish people descend to their summer cabins for quiet chilling and socialising, for eating good food, swimming and fishing. For saunas, boats and chopping wood. 
The cabin lifestyle has allowed us to obtain a slight understanding of the Finnish outlook. They put great importance on taking time out from everyday life, time to just be, to appreciate the simple things - birds singing in the trees, sunlight on the water, feeling of intense heat in the sauna followed by intense cold of the icy lake, smell of wood smoke all around.
Maybe we should all learn something from the Finnish lifestyle, and place importance on taking time out from our busy lives, making socialising with family and friends a priority and finding a way to enjoy the world and nature around us.