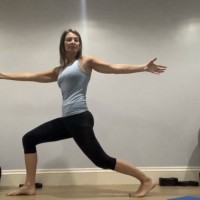 Looking for an easy exercise class from the comfort of your home?
My New Year Resolution this year is to get fitter. Well, not exactly fitter but to keep moving and keep as flexible as I can.   As I get older I am very conscious of more aches and pains, so am very aware of the need to keep active.
 Although not particularly fit, I like to keep moving and do a variety of activities. I walk, swim and zumba. 
I have also joined Life Enhancing Fitness run by Kerry Robinson, a freelance fitness instructor. She offers a variety of online classes at different levels, all done from  the comfort of your own home, and  you can exercise at a level that suits you.  What I like about Kerry's class is that many of her classes are aimed at the 50+ age group, where we have to be a little bit more gentle on our muscles and joints.  (She also offers more strenuous classes such as Pure Core and Cardioblast)
 Although based in Yorkshire, you can join from anywhere in the country as all her classes are online.  Personally, my favourites are Move Freely and Pilates. I love Kerry's classes - she is really experienced, explains things clearly, is friendly and approachable and happy to help if you need support.  On Zoom, you can put off your camera so no-one else sees you exercising in your front room, and you can participate at a level that suits you.
 Why not give it a go?  You can try out one of her YouTube classes and contact her if you would like to join in some of her 'live' classes. She'll even give you a free week trial.  Classes are just £3.50 a class or £10 a week for as many classes as you like, so an absolute bargain!
Life Enhancing Fitness taster classes - try now!
And why not persuade a friend to join you for fun and motivation!
Kerry Robinson
Life Enhancing Fitness