Travel as an emptynester
This month I embarked on my first 'grown up' long haul trip since my 20's, when I was a free spirit. Don't get me wrong, I've had some brilliant family holidays in between,  but this was the first trip where I felt myself revert slightly to being a 'gap year' girl.
This trip came about because my husband was doing a proper gap year thing - teaching kids in Thailand for a month before I flew out to join him.  His idea of an adventure came about after a heart scare last year, something that took him by surprise and gave him extra determination to live life to the full.  So I booked to join him in Thailand before we both flew off for a joint holiday in Vietnam.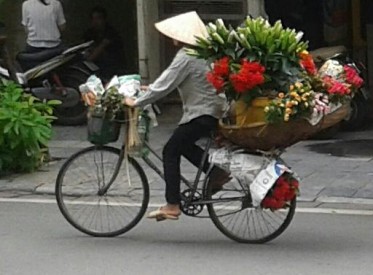 On our trip we did the usual things:  visiting temples and tombs, taking boat trips, hiking, cycling, snorkeling and kayaking.  All so enjoyable.  But more than anything we loved seeing life lived on the street, eating at roadside cafes; trying out the local delicacies such as egg coffee, durian fruit, sugar cane drinks and a variety of noodle based dishes, and just watching life pass us by.
We loved the crazy scooter culture.  Attempting to cross the road as scooters, bikes and cars drove in all directions was a feat in itself.
We loved the mix of old and new rubbing shoulders with each other.  While tower blocks rose above us and smart business people passed us by,  ladies in conical hats were also selling their wares from their baskets and bicycles, making it a fascinating place to be.
One night we stayed in a homestay,  sleeping under a mosquito net and washing in a cold shower.  But we also cooked our own tea of pancakes and spring rolls, receiving instruction from the homestay owner.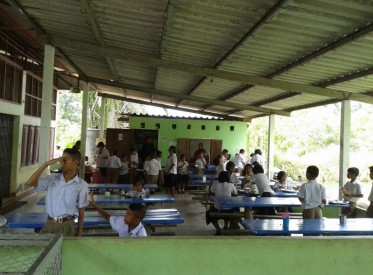 Mixing with local people made the trip extra special.  My husband teaches people from around the world in his day job, so we were lucky enough to meet up with a couple of his students who took us to their local restaurants and favourite places.  In Thailand I  also visited the school where he taught.   I was greeted by throngs of small children giving me high fives, hugs and asking my name.  We were treated like guests of honour with a special lunch laid on,  presents and a meal out with the staff the following evening.  All adding to the personal experience.
The weather  took us by surprise.  Unbelievably humid most of the time with clothes changed a few times a day, the heat was interspersed by the wettest, heaviest rain I have ever seen.  The monsoon season certainly takes rain to another level.
Vietnam is cheap, one of the cheapest countries I have ever been to.  With a meal costing about £4-5 and a good hotel costing about £40 per night, it was easy to live well and treat yourself.  In Vietnam we felt very safe. With so many people out on the street, you always felt as if there was someone about to give a helping hand.
The only down side was the journey to get there.  Travelling overnight in a packed plane for many hours was not a pleasure, but worth the effort given the fantastic experience of seeing a different way of life.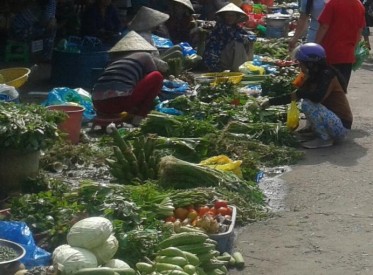 From beginning to end, the trip was an adventure.  Travel is such a special thing, and something that I plan to do more of now that I have more freedom.
I travelled with my husband,  but many people join group holidays or travel with friends.  Some travel solo and meet like minded people along the way, whilst others prefer to travel with a companion.  At togetherfriends we offer a 'travel shoutout', where members 'shout out' for companions to join them on a travel adventure.  Members have already holidayed together in this way, and lots more are shouting out for friends to explore the world with.
If you are interested in finding a travel companion, join togetherfriends and 'shout out ' for a friend.
Helen's Travel Tips: Vietnam
On arrival at an airport or train station, I advise having a taxi and hotel booked ahead.  If you have a taxi waiting for you, it takes the hassle out of negotiating with the dozens of taxi drivers vying for your custom.
Crossing the road in Vietnam is a daunting prospect.  On the advice of a local, look for a gap in the traffic, step out, looking drivers in the eye and putting your hand up to let them know what you are doing.  Then go for it!  We saw elderly ladies sauntering across busy roundabouts with their doughnut trolleys, oblivious to traffic all about them!
We cleaned our teeth with bottled water and did not eat the salad.  However ice in drinks seems to be ok.
Toilet habits - due to a poor sanitation system, you are requested not to put paper down the toilet. Instead you should use the hose beside the toilet to clean yourself (easier than it sounds!) and put any paper in the bin.
Laundry - do not use hotel laundry services which cost a fortune.  Instead use a street laundry who will charge just 50p for a kilo of clothes.
Try the street cafes - great food on offer at very cheap prices, all cooked on the spot.
Places to go:
Hanoi - We enjoyed the Ho Chi Minh Mausoleum, seeing the man himself lying in state.  We also found the Vietnamese military museum. The Vietnam war had such a major impact on the country, it felt important to find out more about it.
We had no time to hike in the Sapa region, but it was highly recommended to us by other travellers.  A food tasting tour was also advised in Hanoi.  At weekends, the streets around the Hoan Kiem lake are closed to traffic, so it is a great place to saunter around seeing the local entertainers and market stalls.
If you haven't got time to visit Halong Bay, the next best thing is Ninh Binh in the Red River Delta.  Just beware the boat ladies selling their wares at the end of the trip!
Hue - we enjoyed a lovely day tour on the Perfume River visiting the many tombs.
Also visit the Imperial City which is really interesting.  We went during the day but evening entertainment and lighting sounded really good as well.
Hoi An - We travelled to Hoi An via train to Danang and taxi.  The train was on time and easy to use.  If you are need a taxi in Hoi An region, use Hoi An Transfers. Run by a wonderful lady called Ms Phuong, she phoned us up when we were in the taxi to see if everything was ok, and gave us 10% discount on our second trip!
Hoi An is a really lovely little town with lots of atmosphere, even if touristy.  At night lighted lanterns float down the river.  We stayed in the Hoi An Odyssey hotel, a steal at £40 per night.  We had a large room with balcony and the hotel offers a free shuttle bus to their private beach,  a lovely pool, great tours to My Son at daybreak, snorkelling off a local island and a cookery day.  All recommended by other guests.
Ho Chi Minh -we didn't have long here but enjoyed the Reunification Palace and drinking cocktails on the roof of the Rex Hotel.
Mekong Delta - We booked a two day tour in the Mekong.  The floating market was a disappointment as we were taken to a market with cargo boats rather than the small boats we expected.  Also all the activities were a long way apart so we spent a lot of time driving around.   Something to beware of if you are booking a tour.
If you have been to Vietnam and would like to add your own tips, or would like to blog about your own adventures in other countries, we would love to hear from you!