Looking for a unique, relaxing holiday with likeminded people in the sunshine?   Last year I went on a wonderful singing/swimming/walking holiday in Turkey with the best group of people.  Here's my blog about the trip:
My extra special holiday  - a week of sun, sea, song and special friendships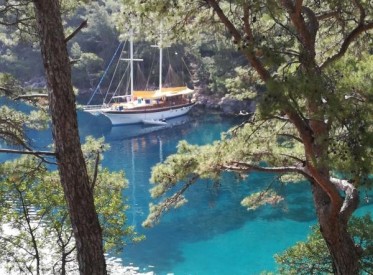 There is nothing like a splash of mud and a man hitting you around the body with a pillow filled with foam to bond people together.  Add in a cruise on wonderful turquoise seas, delicious food, a spot of singing, hiking and snorkelling, as well as wonderful hospitality, and you have made friends for life!
I've just been on an extra special holiday - a singing, swimming, hiking cruise on a gulet boat (traditional Turkish boat) around the Turkish coast, organised by Anne and Adil Bektas of Meridian Travels & Yachting (www.meridiantravels.com).  It truly was a magical experience, and one that I will remember forever. 
This was a special trip for me in so many ways, as it was my first trip on my own in 25 years, without husband and children in tow.   It almost felt like a turning point in my life. A new life as an emptynester where the world is my oyster. Booking the trip was a spur of the moment decision - it offered three activities that I love to do - singing, swimming and hiking.  I was in a brave moment, looking for adventure, so when I saw the leaflet at my local community choir, it leapt out at me and I booked it before I lost the nerve!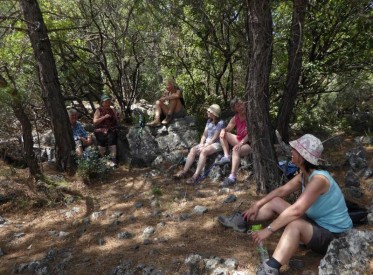 I have to admit to feeling a little nervous about meeting a group of unknown people and sharing a twin cabin with someone I didn't know, but I needn't have worried.  Right from the start the group and crew were truly welcoming, so we all settled down together really quickly.  We were a motley group, mainly in our 50s and 60s. Some were single, some were with partners or friends, but everyone was open, friendly and looking for adventure. We lived, slept and ate on the boat - a beautiful wooden traditional Turkish vessel that sailed from bay to bay each day, allowing us to swim in gorgeous turquoise seas, hike on the surrounding hills surrounded by olive, pomegranate and orange trees. The holiday was meticulously organised by Anne, Adil and their crew, who worked quietly in the background ensuring that we enjoyed an extra special experience.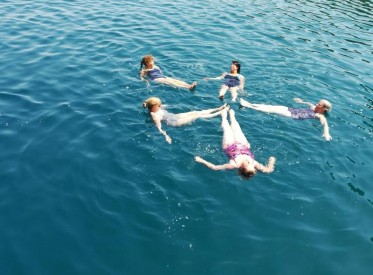 We got into a routine - delicious Turkish breakfast - eggs, tomatoes, olives, cheese and local jam and honey, followed by a swim, snorkel or hike or a day out at a beauty spot, stopping off for pomegranate juice or Turkish coffee from roadside stalls along the way.  We dived into a mud bath, we shared a Turkish hamam experience, all bonding us together.  We finished off the day with a lovely singing session - singing a mixture of jazz, world and folk music led by the talented Su Lewis, a natural voice practitioner based in the Dorset area, who runs a number of local choirs as well as leading singing holidays at home and abroad.  We would end every day with a delicious turkish meal - stuffed peppers, fresh fish and kebabs, accompanied by wonderful vegetarian dishes cooked by our resident cook.The crew were so attentive and were very much part of the holiday.  They couldn't do enough for us and I have rarely received such personal service on a trip away.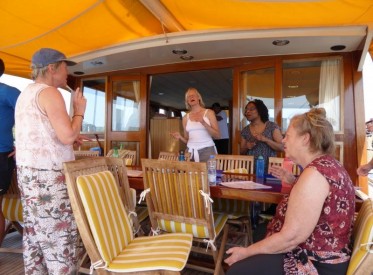 It's been a very long time since I've been on a group holiday of this kind and I had forgotten the camaraderie you develop when you enjoy a shared experience.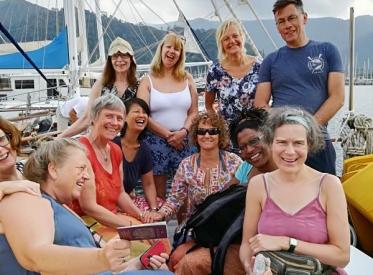 There is nothing like a common bond to bring people together, and I can honestly say that I have made some real longlasting friendships as a result and I cannot thank Anne and Adil enough for this extra special trip.  
If you fancy a holiday of this kind,  but are nervous about going on your own, be brave and go for it!   You have nothing to lose and an awful lot to gain - as well as enjoying a special holiday you could make new friends along the way!
As well as singing and hiking gulet cruises, Anne and Adil offer a wide variety of trips linked to particular interests.  To find out more, email [email protected]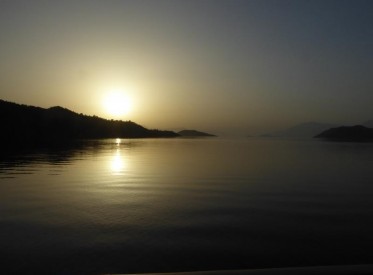 And if you would prefer to go on a trip with someone else but have no one to go with, we might be able to help you find a travel companion at togetherfriends!
Meridian Travels and Yachting are offering a special rate of £600pp to members of togetherfriends if booked before 31 March 2019.
Offer:
6-13 May 2109  Hiking 
13 -20 May Circle dancing and Hiking 
27 May - 3 June Singing and Hiking
Why not go for it? You might make some new friends!