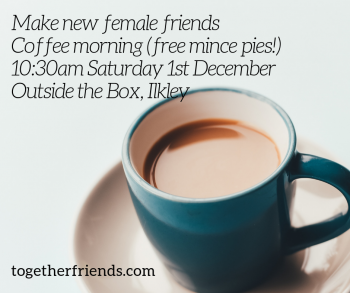 Come along and join us at a festive coffee morning in Ilkley, West Yorkshire
Women meet to forge new friendships:
This Saturday, 1st December, togetherfriends are holding a festive coffee morning in Ilkley, West Yorkshire for local women who would like to make new female friends and find out more about the group and website.
togetherfriends.com matches women who are looking to meet new friends, based on age, interests and location. Our members get to know each other and meet up for coffee, meals out, trips to the theatre and holidays. It's a great way to make new friends and meet others like yourself.
The coffee morning will be held at Outside the Box Café on Leeds Road at 10.30am on Saturday 1st December and women of all ages are welcome. Free mince pies will be on offer! To find out more email [email protected]
If you are a togetherfriends member in another area and would like to set up something similar, togetherfriends are happy to work with you to help you publicise your event locally. Just get in touch!